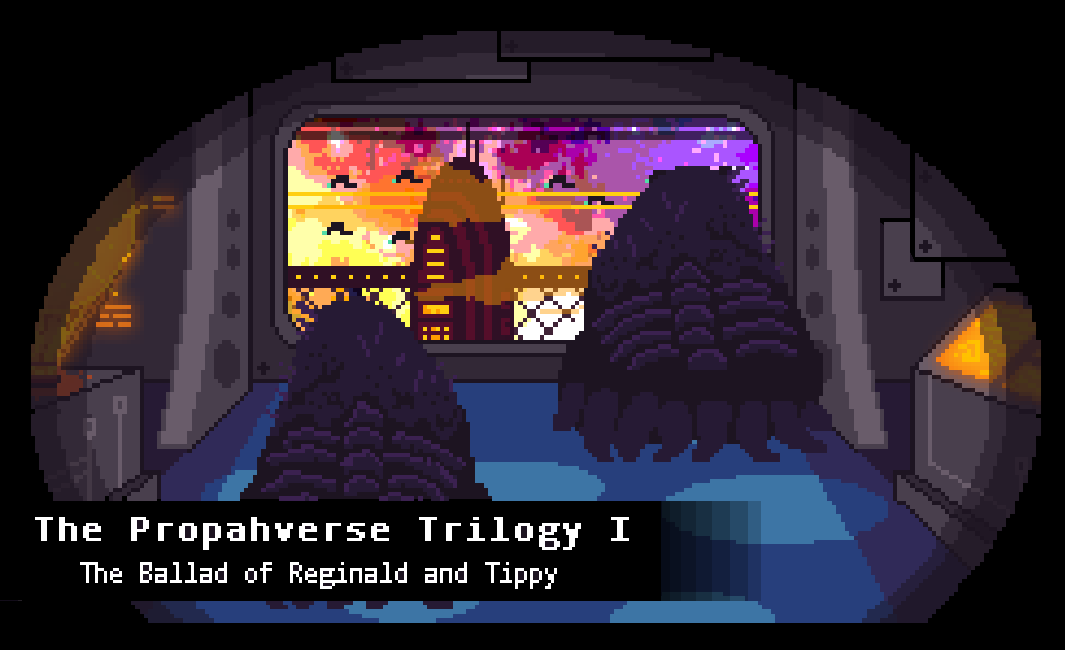 The Propahverse Trilogy: Episode I
A downloadable game for Windows
Reginald Percival Persimmon Dulot III has spent the last five years drinking himself into a stupor within the confines of his ancestral home, Smedlington Manor. Every morning he wakes up, drinks heavily, and then cries himself to sleep lamenting the loss of his beloved Sylvia.
Tippy, The Earl of Tippingdale is a somewhat odd individual and is best friends with Reginald, he moved into Smedlington Manor after an unfortunate fire. He loves to spend time in the garden and stare at the sky to check for potential invaders. Tippy continually tries to encourage Reginald to go outside and have fun.
An unfortunate incident with a banker, a teapot and a curtain pole leaves Reginald and Tippy fleeing their home to escape the country. Neither of them realize the grand journey ahead of them. Neither of them know that behind the scenes there are greater things pulling the strings.
Backstory
Over seven years ago Sean Oxspring and his friends made some low-quality YouTube comedy videos in their spare time whilst doing their A-Levels. They created a bunch of weird and wonderful characters, and enjoyed sending them on even stranger journeys.

Whilst at university, Sean tried writing some of these journeys into a series of novels - but he soon realized that his extended writing was pretty bad and he needed to try something different.
Eight years after these characters first popped into existence, they are finally getting to tell their stories to the general public in video-game form!
Part one of this trilogy follows Reginald and Tippy during the Earth's first zombie apocalypse, there will be thrills, there will be spills, there will be exciting high-concept sci-fi drama!
The Dev Team
What Am I Paying For?
You're paying to help Sean build this story faster!
"I need help paying for extra pixel art, music and localisation. I'm making this game in my spare time when not at work, so any extra cash I can use to make development easier is greatly appreciated. This story is really important to me, and the game is a labor of love, so I want it to be really polished."
Paying more than the base amount will give you the opportunity to:
An invite to the Propahverse Discord!
Get your hands on the sexy-smooth soundtrack by Will Bryce!
Have your name in the credits as a Generous Backer!
Have your name hidden in the game as an Easter Egg!
"People who pay RIDICULOUSLY generous amounts will get special thanks and I'll be putting them in the game as an NPC character, or work with them to design an NPC character!"
| | |
| --- | --- |
| Published | Jun 18, 2017 |
| Status | In development |
| Platforms | Windows |
| Rating | |
| Author | Hitpoint Games |
| Genre | Adventure |
| Tags | british, Comedy, Dark Humor, Pixel Art, Sci-fi, Shoot 'Em Up, Space, Time Travel, Top Down Adventure, Zombies |
Purchase
In order to download this game you must purchase it at or above the minimum price of $5.00 USD. You will get access to the following files when they are released:
Get Early Builds & Chapters!
Get That Smooth Soundtrack! if you pay $10.00 USD or more
Get My Name In The Credits! if you pay $15.00 USD or more
Get Your Name In The Game! if you pay $25.00 USD or more
Get A Character In The Game! if you pay $150.00 USD or more